You make something out of it... well.. maybe most people would toss it, and I had intentions of making something a little more special, but P. is sleeping, so I didn't want to go and turn the mixer on and take the chance and wake him (he had a headache and wound up falling asleep shortly after we got home tonight) Now, I was supposed to be making the Ganache for my DB challenge cake that is (Slowly) defrosting in my over packed fridge, I had the cream in the pan and added the chocolate and Dammit the phone rang and screwed me all up and I ended up with a pot of oily chocolate
.. Damn.. what am I supposed to do now? Well.. I had half a block of cream cheese in the fridge that I was going to use to make Toffee dip with, hmm.. what else.. Sugar.. Toffee bits.. Oh, what the hell.. lets just mix it all up.. so I took the cream cheese out of the fridge to let it soften up then I stirred it up in a bowl with about 3 tbs. sugar and after separating the chocolate from the oily mess with a coffee filter I mixed that in...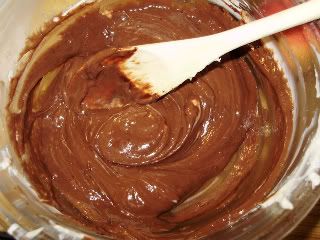 I'll add the toffee bits tomorrow.. but for now it's sitting in the fridge.. I'll try it later, or maybe I'll leave it until tomorrow and let the kid try it first, lol...