I had this great grocery store in my old neighborhood that made the best rice salad. The first time I saw it I was a little confused, Rice salad? But the girl behind the counter convinced me that it was delicious, just try it.. so i did and I fell in love.. The rice salad there was very "American" with corn and beans and whatnot.. Mine is very Greek.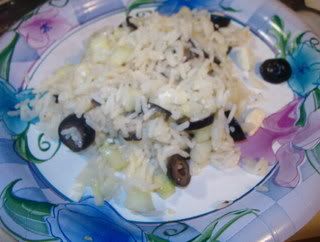 I started with 2 cups of Carolina Jasmine rice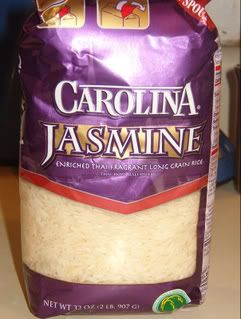 Cooked to fluffy perfection and seasoned with Lemon Pepper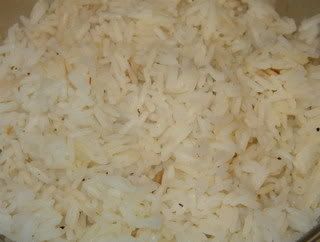 about a dozen oregano leaves (plucked from the plant on my porch)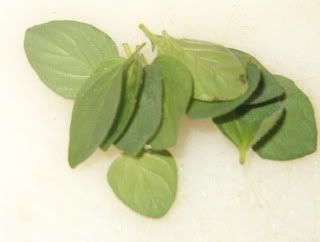 2 cloves chopped garlic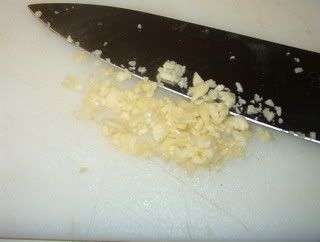 1 cucumber, seeded & diced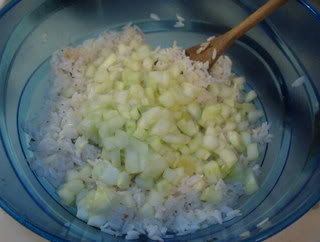 a handful of sliced black olives (no kalamata on hand, P. doesn't like them much anyway)
1/4 cup or so Feta cheese
Makes a really great side dish to some Grilled Chicken with Tzatziki sauce
Recipe: (My own creation)
Greek Rice salad
Ingredients:
3 cups Carolina Jasmine rice
1/4 cup Canola oil (I like canola because it really has no distinct flavor)
2 cloves minced garlic
1Tbs fresh oregano chopped (or 1/2 tsp dried)
1 Tbs Lemon Pepper (or to taste) (you can use lemon juice too, but I had no lemons on hand)
1 English cucumber or 1 cucumber, seeded
1/4 cup black or Kalamata olives
1/4 cup crumbled feta cheese
Directions:

Cook rice according to package directions
add lemon Pepper, oregano, garlic and oil to hot rice and stir to combine
Remove from pot and into a mixing bowl
refrigerate 20-30 minutes
add cucumber, olives and Feta.
Refrigerate until ready to serve