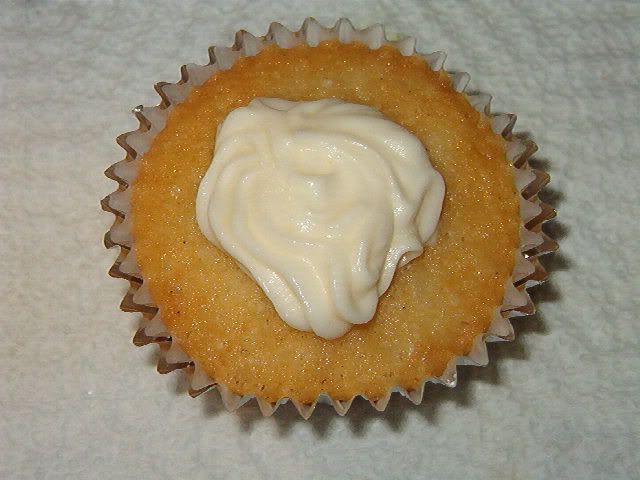 Okay so P. was having field day at his school the other day and being the 'chef Mom' that I am I was asked to 'please make cupcakes again' so I had P. take a vote from his classmates, vanilla or chocolate and Vanilla won (and Boy was I excited because I was lucky enough to acquire 3 vanilla beans on Monday!)
I will confess, this is NOT my recipe, since I love to visit
RecipeZaar
I got the recipe from there, and let me tell you, I had to double this recipe and it came out perfectly
Easy One-Bowl Vanilla Cupcakes
Ingredients
2 cups all-purpose flour
1 1/2 cups sugar (can use 1-1/4 cup for a less sweeter taste)
2 1/2 teaspoons baking powder
1 teaspoon salt
1/2 cup shortening (very soft but not melted, Crisco is best)
3/4 cup half-and-half cream (or milk)
Directions
Set oven to 350 degrees F.
1

In a large bowl, mix together the flour with sugar, baking powder and salt until combined.
2

Add in the shortening cream or milk, vanilla and eggs; beat on medium speed of an electric mixer scraping the bowl constantly until just blended (the batter will be thick, if desired you may add in a few more tablespoons cream or milk).
3

Pour into paper-lined regular size muffin tins filling under just three-quarters full.
4

Bake for 20-22 minutes or until the cupcakes test done (do not overbake as they will be dry).
5

Immediately remove from pans.
6

Cool completely before frosting.

I made these with a basic cream cheese frosting and the kids gobbled them up!